Summer Dressing in the 1860s.
Last month I made an 1860s dress for an event I had been invited to. Since it's summer here --which means hot and humid-- I decided on a "sheer" dress, a common hot weather dress of the era. A sheer white Swiss dot cotton seemed to be the perfect fabric choice. After some research and asking those who know, I determined that though it's popular to put the bumps on the outside in modern clothing, it is more accurate to put them on the inside for this time period. If the bumps were actual embroidered dots they would go on the outside but as they were clipped fibers here they went inside. The pattern I chose is one drafted from an original dress in the collection of the Atlanta History Center. I got the pattern on Etsy.  (If you click through to the link you can read more about the pattern and see photos of the original dress).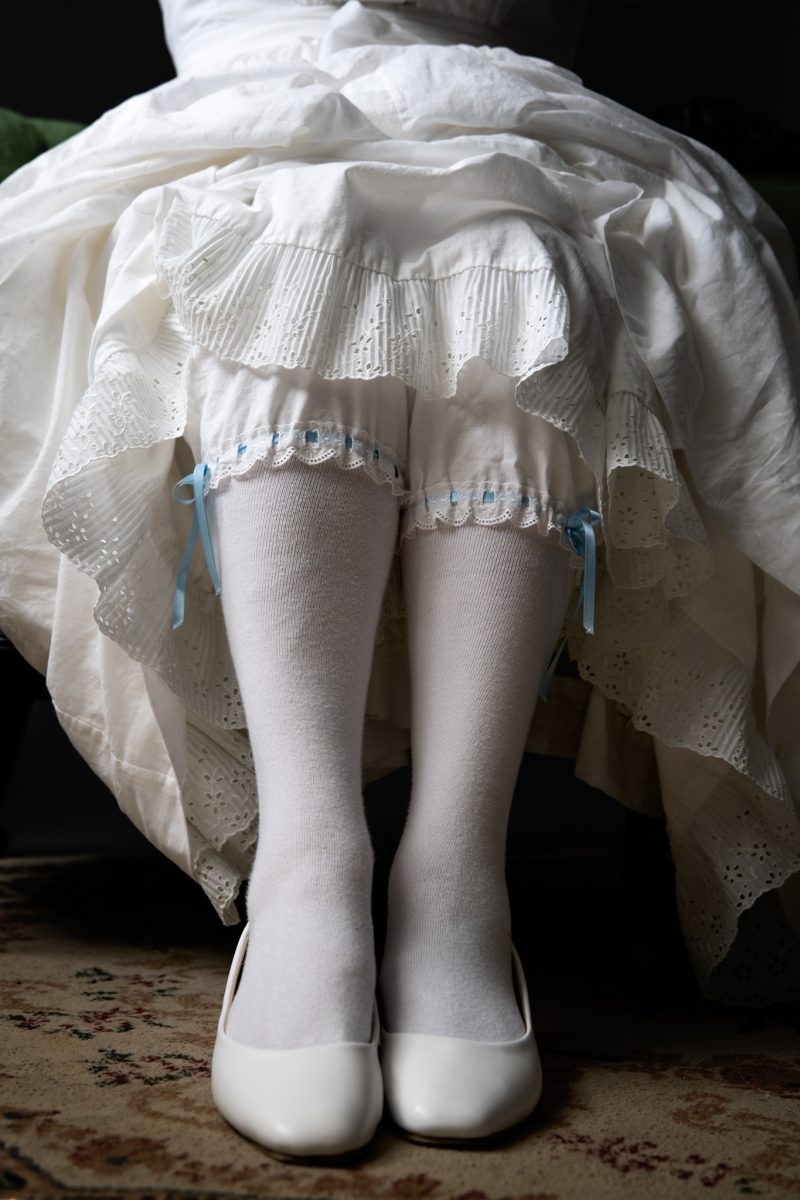 This is a day dress and though I have made dresses of this time period before I have not made this type. It is designed to be worn over a corset, hoops, and petticoats. Because it is sheer it is partly lined and I made a time period accurate corset cover to wear underneath it. I already had a corset, hoops and petticoat although the petticoat needed a new waistband so I did include that in my project. This particular petticoat being quite large at 210 inches around. The trim is accurate for the time period but I couldn't tell you where I got it as I have no clue. It's been in my stash for years. Turns out when people know you are someone who sews they tend to give you old sewing items, especially when an older family member passes and they don't know what to do with it.
So, corset, petticoat, hoops (a modern day bridal hoop that I have had for years). I should mention that a cotton or linen chemise is always worn under the corset. It's the first thing on and would be the layer that absorbs perspiration and keeps the corset clean. I don't have a photo to show you but it's rather like a slip. I also wore split crotch drawers of the time period (the secret to being able to use the restroom in this ensemble) and cotton stockings. My shoes are modern but a good match for the time period with the square toe. These white flats (slippers they would have been called) would have been for an indoor event whereas a lady walking around outside would have had low boots. I used these inexpensive jazz boots for this event but they would not suffice if I was dressing for this era regularly (which I do not).
The skirt looks HUGE here because I have the hoop on –in the other dress photos I only have a petticoat on.
The dress itself was fun to make. The pattern is excellent and the instructions are very good. I'm an experienced seamstress but I do think even a beginner could tackle it, especially with all the groups there are online to answer questions.
I did a good bit of hand sewing on this dress which I actually enjoy very much though the long seams are all machine stitched. I do love all the little details.
This was the first time I did cartridge pleating on a dress and I really like how it turned out.
Apparently the pleats are named so for resembling a line of cartridges on a cartridge belt. It's a fairly old technique. This is an 1860s dress but they are seen in extant garments 100 years prior. I can't say the term is what was used then but the method is the same. In a nutshell the top edge of the skirt is turned over on the inside and you hand sew two (or three if the fabric is heavier) long threads the exact space apart (as you can see I marked it ahead of time) and then pull them to form the pleats.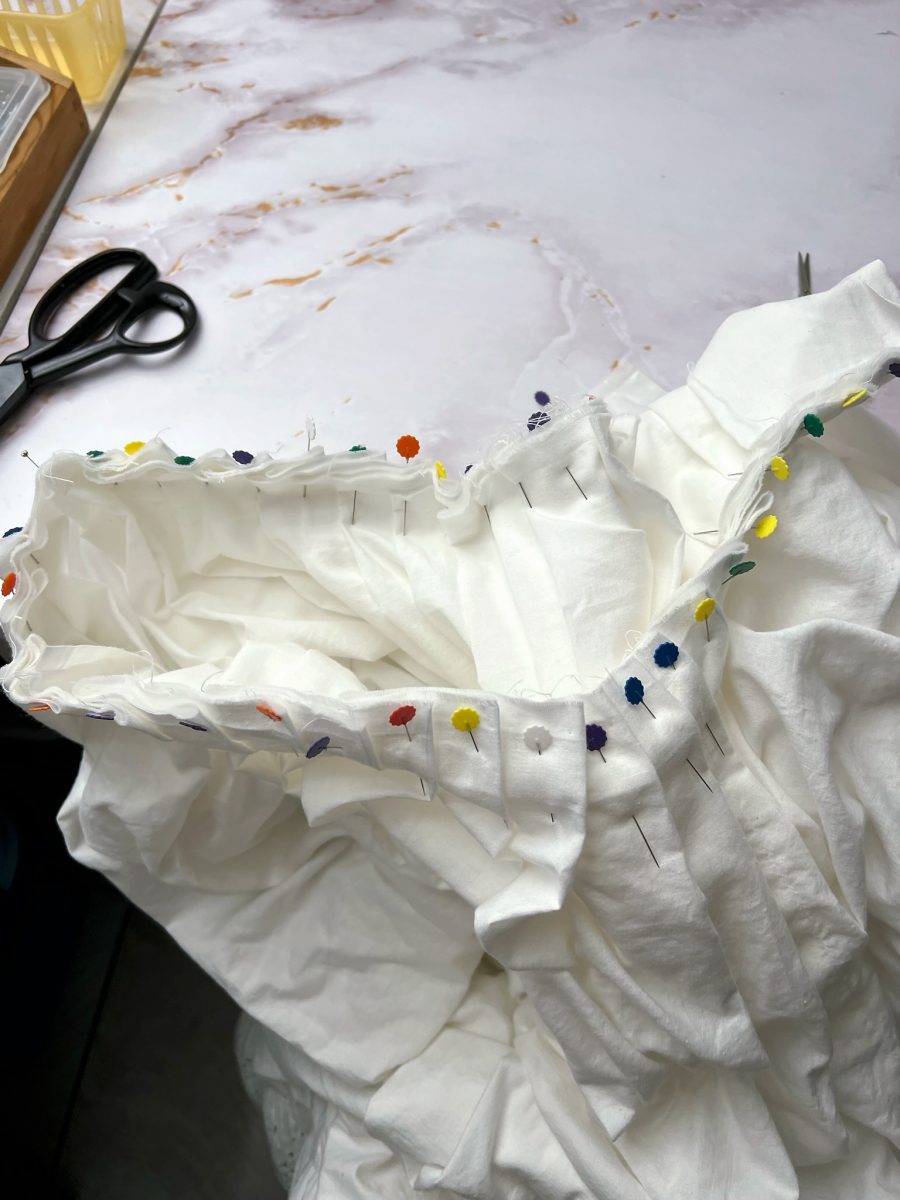 The skirt is then attached to the waistband by sewing the back part of the pleat to the bottom edge of the waistband for a lovely result.
The dress can be worn plain or with added elements such as this belting ribbon and buckle, a broach (a fichu would work too) and of course earrings. As I mentioned earlier this is a day dress, suitable for regular daytime wear of the time period.
So was it cool and comfortable to wear? Unfortunately I did not get to wear it to the event I originally made it for as I was unwell that day with a migraine though I did get to wear it for a few hours the next day at another outdoor event (where I also purchased the lovely bonnet!). As far as dresses for the time period go I would say yes it is cooler but the hardest part for me was the cotton stockings as I am used to wearing sandals all summer.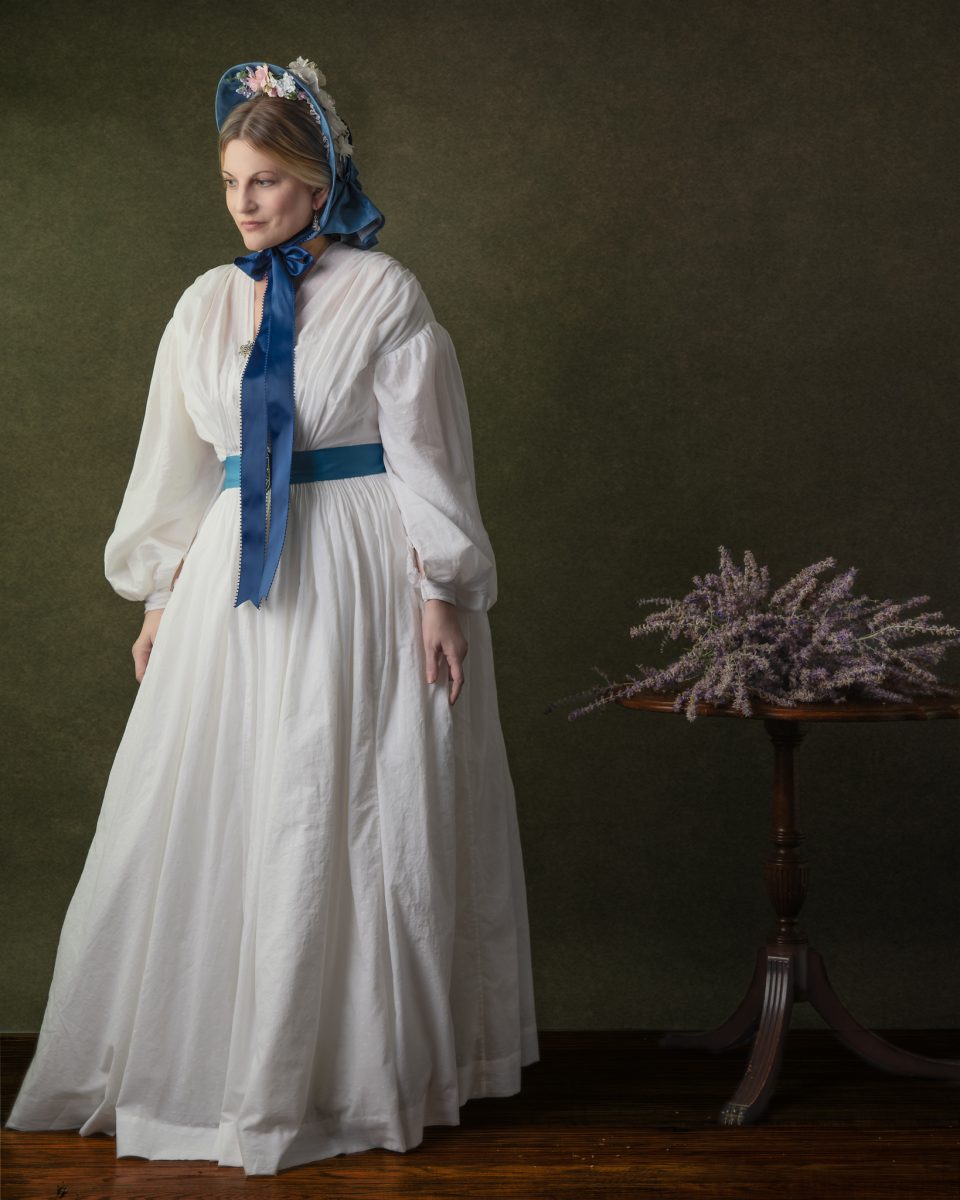 This dress will now go into my studio closet. I do not lend or rent out my dresses but they are available for client photoshoots and this one would work for several sizes I think.

So let me know what you think! I am happy to answer questions. As I have said before, I'm not an expert but I know enough to be dangerous.